Central Districts racegoers would have recognized a familiar surname amongst the winners at Otaki on Saturday as 22-year-old apprentice Liam Kauri registered his first winning ride aboard the Gail Temperton-trained Candy Cross in the opening event on the card.
Kauri is the son of former jockey and trainer Paddy Kauri and has overcome a number of setbacks over the past two years as he battled to get his riding career underway.
By his own admission he wasn't that interested in horses, despite the family association and didn't contemplate a career in the saddle until he left school.
"I grew up around horses but never actually rode one until I left school," Kauri said.
"I wasn't that interested but after a while I thought I might give it a go, so I had to learn how to ride."
That is where trainer Suzy Gordon entered the picture, taking on Kauri at her Foxton base.
"Liam came to us a couple of years ago, never having been on a horse, so we started him off by learning to ride a pony," Gordon said.
"He took to it well and when he weas ready he went up to Lance O'Sullivan and Andrew Scott's stable in Matamata to further his development.
"Unfortunately, he had a bad accident and broke his leg so once he was all healed up, he came back to us about six months ago and he is now our stable apprentice.
"He is an amazing young man, very quiet and respectful, but a hard worker and we were just thrilled for him when he won that race on Saturday.
"He has got plenty to learn, but that is a great start to his career."
Kauri was trying to take the win in his stride after having doubts he would make it back to the track following his accident.
"I was riding work one day when my horse went through a fence and I snapped my femur in half," he said.
"I had to go home and it took a long time to come right.
"You just don't realise the confidence you lose after a fall like that, so it took me some time to get back to the level I was at before it happened.
"I did go back to Matamata but that was just when COVID struck so I had to come home before I went back to Foxton to start over."
Despite Candy Cross paying a winning dividend over $35, Kauri had been confident of a good performance.
"I was pretty confident as she had been galloping well and I knew she was rock hard fit," he said.
"When we started to challenge in the home straight, I was hoping we might get up for second, but she really put her head down and hit the front which got me excited.
"I was just trying to stop myself flopping all over her in the last few strides and I wasn't sure we had got the win as the second horse really dived at us on the post.
"When I heard we had won, it was such a good feeling and one I will always remember."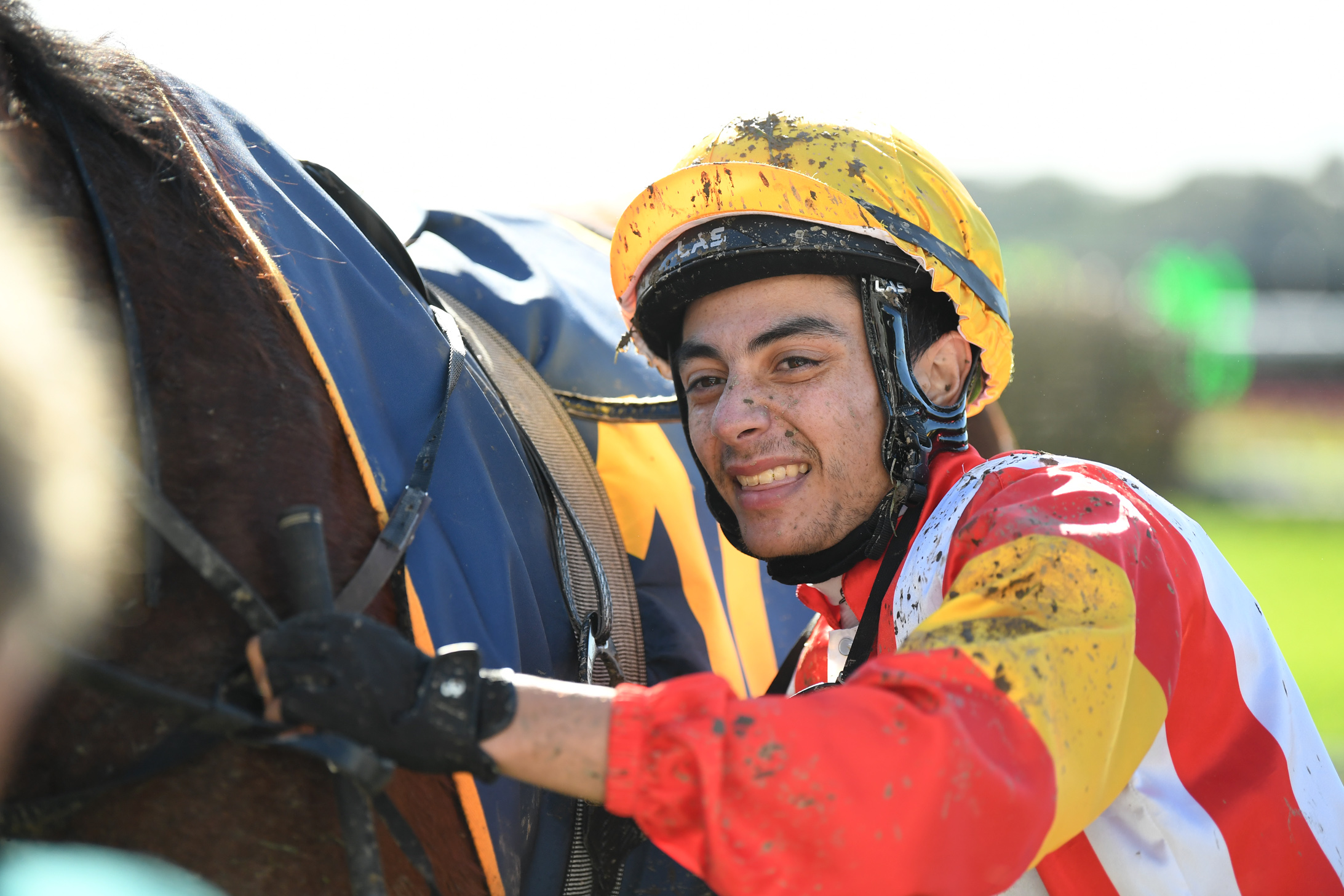 Liam Kauri unsaddles after riding his first career winner. Photo Credit: Race Images – Peter Rubery
Kauri hasn't really thought about his goals for the new season, but knows he wants to build on his winning momentum as quickly as possible.
"I've got some good contacts here in Foxton, so I will just be trying to get more rides and win as many races as I can," he said.
"Now I've got my first it has given me more confidence and with my 4kg claim I hope trainers will put me on if I can keep on improving."